Sensory play is one of the most important ways that we can educate our children. Thoroughly teaching children about the five senses (seeing, hearing, touching, tasting, and smelling) will significantly help will their individual development. 
Sensory development helps children in many ways, but here are some overall benefits of practicing sensory activities with your child: 
Helps improve handwriting
Assists with language and speech in general 
Helps with nerve connections to the brain 
Helps with social interaction 
Helps in calming a child 
Helps in teaching your child sensory attributes and how they should react to them 
Helps with memory enhancement
With the fall season upon us (despite the temperatures here in Florida), there are many exciting sensory activities you can do with your child. Try one of these three activities with your child this fall!
1. Fall Inspired Slime 
Many of us have not met a child who isn't obsessed with slime. The great thing about creating slime is that you have endless items you can add. This is a great activity to do with your child. You can add items such as pumpkin seeds, fall fragrance scents, glitter, beads, and the list goes on. 
2. Harvest Themed Sensory Bins 
The purpose of a sensory bin is to add items and materials that stimulate all of our senses. Fall sensory bins have endless options. What you'll have to do is grab a bin and fill it. Some of your filler options can be any of the following: 
 Corn / Candy Corn 
Artificial Leaves
Small Gourds 
Beads 
Pom Poms 
Pinecones 
Burlap 
Pumpkin and/or sunflower seeds 
3. Pumpkin Scented Moon Sand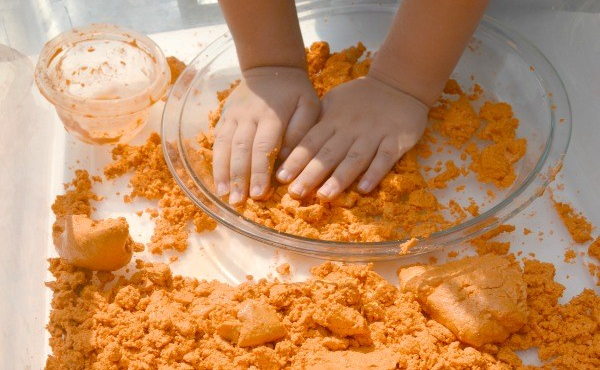 Moon sand is probably one of the coolest things ever invented. Not only is it fun for adults but it will be fun for your kiddo, too! Moon sand is great to experiment with your children and is not at all like regular sand. It sticks together, is moldable, smells like pumpkins, and did I mention that it doesn't make a mess? Your child will have a blast playing and creating with this activity. Click this here for the simple recipe.
Sensory activities are great for your child year-round. Make this fall season filled with fun festive activities for your child.