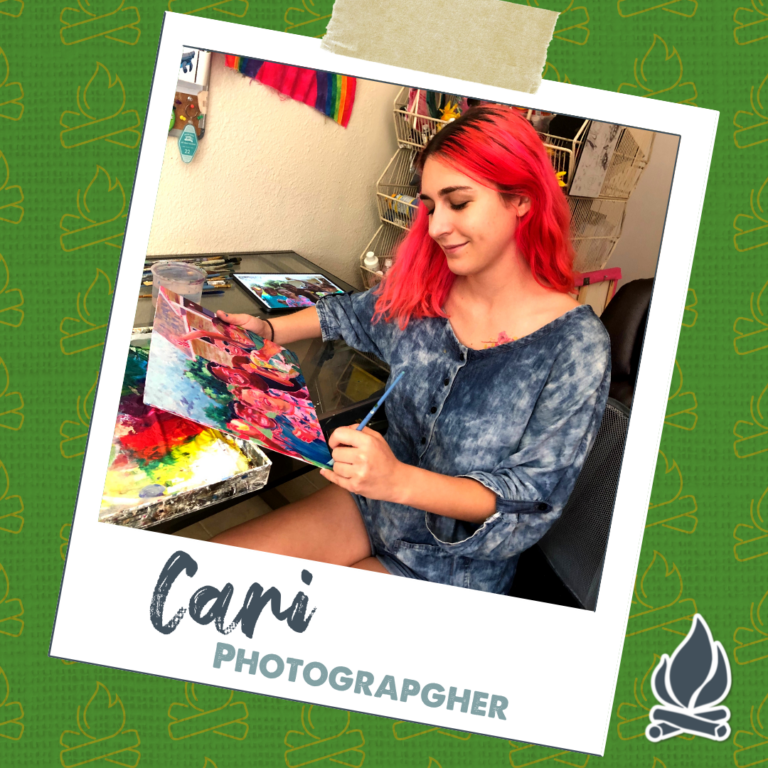 When Cari's friend, our Camp Director Devonte, invited her out to tour Dream Oaks Camp in hopes that she would be interested in photographing Summer Camp this past season, she thought it may be a nice week-long opportunity between her other work. But immediately after stepping into camp, she saw the joy on the campers' faces and couldn't help but stick around all summer long capturing the memories!
Seen in the photo above, Cari has also put her creative skills to work, painting a beautiful mural of one her very own photos from Summer Camp 2022. YOU can win this photo at Endless Summer Nights where the painting will be auctioned off to support a great cause!
We asked Cari some questions to learn more about who she is and what Foundation for Dreams and Dream Oaks Camp means to her, here's what she said…
What does Burn Bright mean to you?
Burning bright means letting your inner light of who you are come to the surface, being your authentic self without fear of being judged. Children need a safe and supportive environment to develop into/find out who they really are, and the camp provides that.
How has working at Foundation for Dreams impacted you?
Up until spring of this year I worked from home on a laptop, which can be wonderful but lonely. To go from that to working at camp was a breath of fresh air, literally! The people who work and volunteer at Foundation for Dreams are all especially patient, warm and kind, and they made me feel welcomed from the start. Then I got to know the kids and see how happy the photos made them and their families and it made my role feel meaningful. On top of that, I didn't have a traditional camping experience as a kid myself, so I felt like I was getting to go to summer camp for the first time too!
Why is Foundation for Dreams and Dream Oaks Camp so vital to our community?
You can tell how important camp is by looking at the smiles on the kids' faces in the photos I took! I saw them feel comfortable enough to express themselves creatively, try new activities, develop friendships and encourage each other. So many of them told me they looked forward to and talked about summer camp the entire school year.
What is your favorite thing about working at Foundation for Dreams?
I love when the kids get excited about having their photo taken, like there's one camper who gets this big smile and goes "That's me!!" when she sees the pictures of herself. I hope that it helps build their self-confidence and that it will jog their memories of how much fun they had at camp when they grow up.
Tell us one fun fact about yourself… (or three!)
I design and paint murals, I sing and play bass in a band, and I can rollerskate backwards!
Without all-stars like Cari, we wouldn't be able to do what we do. We are so grateful for all of our team at Foundation for Dreams!