Meet our Camp Director, Devonte!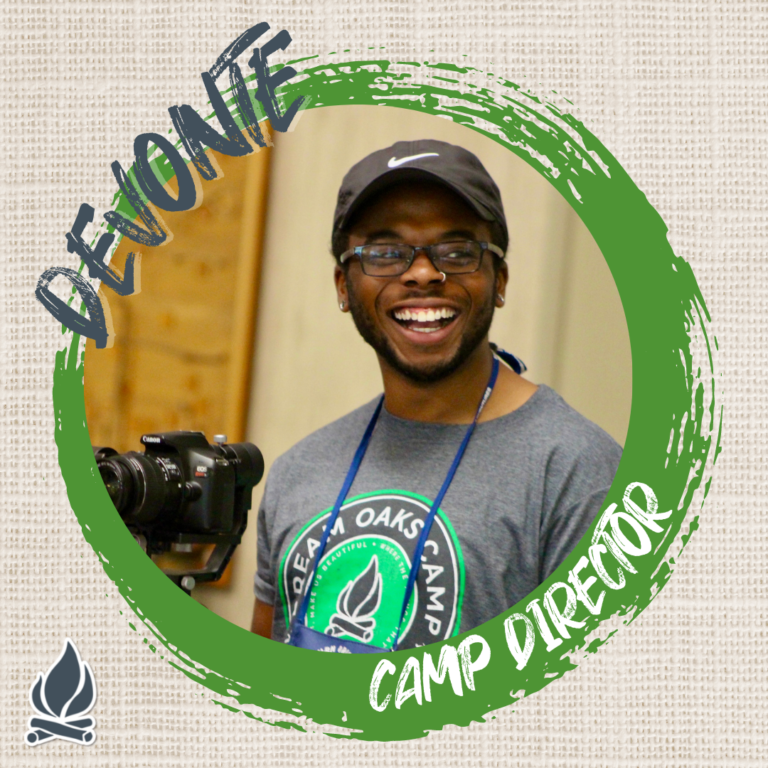 We are so excited to welcome Devonte to a new role here at Dream Oaks Camp as our Camp Director!
Devonte has been working at the Foundation for Dreams since 2016, leading in numerous roles including camp counselor, program leader, office assistant, photographer, and behavior intervention assistant. In his new role as Camp Director, Devonte will lead us in all of our Summer Camp needs.
In addition to his time at Dream Oaks Camp, he also has 5 years of experience in a classroom setting with the Manatee County School District. Devonte is a creative individual who truly embodies the camp spirit. He brings a contagious high energy to everything he does at camp along with strong and focused leadership skills. 
Devonte believes in creating an inclusive program where children can come and be themselves — where children can play, dance, laugh, make new friends, and learn. Through his many roles at camp throughout the years, Devonte has experience adapting activities to the needs of each and every camper, with an end goal to see everyone succeed.
In his role as Camp Director, Devonte will use his knowledge and experience to give children the ultimate camp experience!
To learn even more about Devonte, we asked him a few questions to learn what camp means to him…
What brought you to Foundation for Dreams?
A friend who was camp director at the time, was trying to convince me to come out and work at camp primarily due to my love for being outdoors. It took her a whole year to convince me to decide to give camp a shot. I started 7 years ago and I fell in love with the program and have been here ever since.
What does Burn Bright mean to you?
To me burn bright means to truly be yourself and to shine as bright as you can. Typically in society we dim our personalities to not stand out or draw attention. At camp we encourage the weird, goofy, and silly to shine through and enhance the overall camp experience and activities for the children we serve.
How has working at Foundation for Dreams impacted you?
Working at camp has changed my out look on life. I've learned to be very appreciative of everything I take for granted on a daily basis. Working. at camp has also helped me become very patient, accepting and understanding of others.
Why is Foundation for Dreams and Dream Oaks Camp so vital to our community?
Camp plays a vital role in the community by giving children with special needs a safe space to call their own that allows them to be themselves. Camp also gives parents the time to take a break and enjoy some respite or the opportunity to spend time with their other children.
What is your favorite thing about working at Foundation for Dreams?
My favorite thing about camp is seeing the kids faces light up upon arrival of a camp session. The kids get to interact with new and old friends while participating in fun and exciting activities they may have never tried. I appreciate how inclusive we are at Dream Oaks when planning activities. If one child can't participate in an activity we either won't do it or will find a way to modify it for everyone to be involved. At camp truly no one is ever left out.
Tell us one fun fact about yourself… (or three!)

I was born and raised here in Bradenton. I participated in competitive ballroom dancing for 8 years. I am the oldest of 3 kids!
We couldn't be more excited to continue Devonte's journey with us here at Camp and we know he is even more excited to continue putting smiles on our camper's faces!
Without all-stars like Devonte, we wouldn't be able to do what we do. We are so grateful for all of our team at Foundation for Dreams!